TAKING THE PLUNGE!
A different take on innovation
(From French "OSONS ! Un autre regard sur l'innovation")
By Alain CONRARD
CEO of Prodware and President of the Commission on Digital Strategies of the METI
Innovation, interruption, disruption: change is, paradoxically, the only constant in today's world. Innovation affects all aspects of our lives today. It definitely drives the strategy of companies. It is also the key to prosperity in the world.
In such a context, constant disruption has become the norm, and the faster and faster calling into question of all traditional models has given way to a dominant evolutionary principle. Appreciating these massive changes consists therefore in embracing a shift in perspective, showing clear discernment in letting go of the past to better forge ahead. Engaging in such a move forward implies overcoming a certain number of roadblocks be they psychological, organizational, technological, financial or economic. Taking the Plunge! A Different Take on Innovation clearly demonstrates that what lie behind these obstacles are massive potentialities and that they are within everyone's reach. Alain Conrard helps us understand that adapting does not mean to grin and bear it.
This book is also available in french : OSONS ! Un autre regard sur l'innovation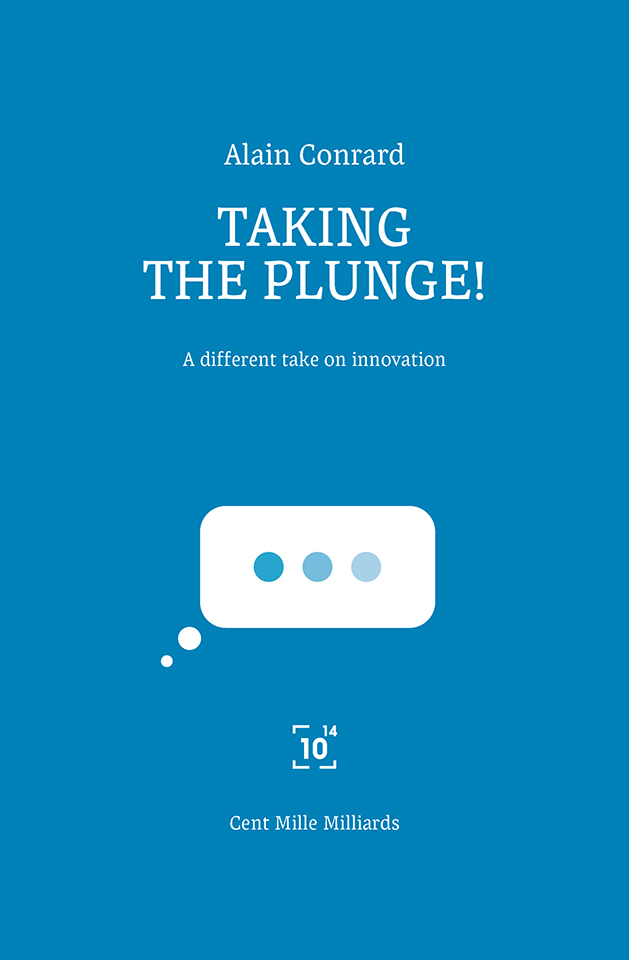 September 2020
Publisher : [1014] Cent Mille Milliards
ISBN : 978-2-85071-107-7
epub : 978-2-85071-108-4
mobi/awz3 : 978-2-85071-109-1
ORDER NOW 
Publisher's website
Amazon
Fnac.com